Product Summary
The IR2125 is a high voltage, high speed power MOSFET and IGBT driver with over-current limiting protection circuitry. Proprietary HVIC and latch immune CMOS technologies enable ruggedized monolithic construction. The IR2125 features a high pulse current buffer stage designed for minimum driver cross-conduction. The protection circuitry detects over-current in the driven power transistor and limits the gate drive voltage. The floating channel of the IR2125 can be used to drive an N-channel power MOSFET or IGBT in the high or low side configuration which operates up to 500 volts.
Parametrics
IR2125 absolute maximum ratings: (1)High Side Floating Supply Voltage:-0.3V to 525V; (2)High Side Floating Offset Voltage:VB - 25V to VB + 0.3V; (3)High Side Floating Output Voltage:VS - 0.3V to VB + 0.3V; (4)Logic Supply Voltage:-0.3V to 25V; (5)Logic Input Voltage:-0.3V to VCC + 0.3V; (6)Error Signal Voltage:-0.3V to VCC + 0.3V; (7)Current Sense Voltage:VS - 0.3V to VB + 0.3V; (8)Allowable Offset Supply Voltage Transient:50V/ns; (9)Package Power Dissipation @ TA ≤ +25℃:1.0W; (10)Thermal Resistance, Junction to Ambient:125℃/W; (11)Junction Temperature:150℃; (12)Storage T emperature:-55℃ to 150℃; (13)Lead Temperature (Soldering, 10 seconds):300℃.
Features
IR2125 features:(1)Floating channel designed for bootstrap operation; (2)Fully operational to +500V; (3)Tolerant to negative transient voltage; (4)dV/dt immune; (5)Gate drive supply range from 12 to 18V; (6)Undervoltage lockout; (7)Current detection and limiting loop to limit driven power transistor current; (8)Error lead indicates fault conditions and programs shutdown time; (9)Output in phase with input.
Diagrams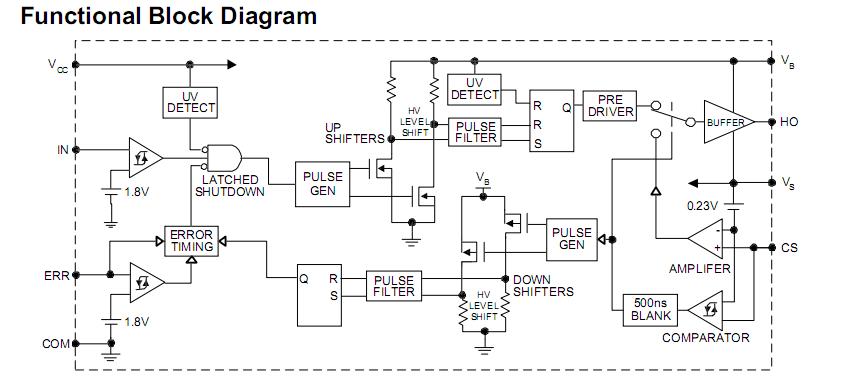 Image
Part No
Mfg
Description
Pricing
(USD)
Quantity

IR2125



IC MOSFET DRIVER LIMITING 8-DIP

Data Sheet

Negotiable

IR2125(S)

Other



Data Sheet

Negotiable

IR2125PBF

International Rectifier

Power Driver ICs

Data Sheet



IR2125S



IC MOSFET DRIVER LIMITING 16SOIC

Data Sheet

Negotiable

IR2125SPBF

International Rectifier

Power Driver ICs

Data Sheet



IR2125STR



IC MOSFET DRIVER LIMITING 16SOIC

Data Sheet

Negotiable

IR2125STRPBF

International Rectifier

Power Driver ICs

Data Sheet



| | |
| --- | --- |
| 0-775: | $1.78 |
| 775-1000: | $1.78 |


IR2125Z

Other



Data Sheet

Negotiable