Product Summary
The OP1177ARZ is a Low Input Bias Current Operational Amplifier. It consists of very high precision, single, dual, and quad amplifiers featuring extremely low offset voltage anddrift, low input bias current, low noise, and low power consump-tion. Outputs are stable with capacitive loads of over 1000 pFwith no external compensation. Supply current is less than 500 μAper amplifier at 30 V. Internal 500Ω series resistors protect the inputs, allowing input signal levels several volts beyond eithersupply without phase reversal. Applications include Wireless base station control circuits, Optical network control circuits,Instrumentation, Sensors and controls and Precision filters.
Parametrics
OP1177ARZ absolute maximum ratings: (1)Supply Voltage: 36 V; (2)Differential Input Voltage: ±Supply Voltage; (3)Storage Temperature Range-R, RM, and RU Packages: 65℃ to +150℃; (4)Operating Temperature Range: 40℃ to +125℃; (5)Junction Temperature Range-R, RM, and RU Packages: 65℃ to +150℃; (6)Lead Temperature, Soldering (10 sec): 300℃.
Features
OP1177ARZ features: (1)Low offset voltage: 60 μV maximum; (2)Very low offset voltage drift: 0.7 μV/℃ maximum; (3)Low input bias current: 2 nA maximum; (4)Low noise: 8 nV/√Hz typical; (5)CMRR, PSRR, and AVO > 120 dB minimum; (6)Low supply current: 400 μA per amplifier; (7)Dual supply operation: ±2.5 V to ±15 V; (8)Unity-gain stable; (9)No phase reversal; (10)Inputs internally protected beyond supply voltage.
Diagrams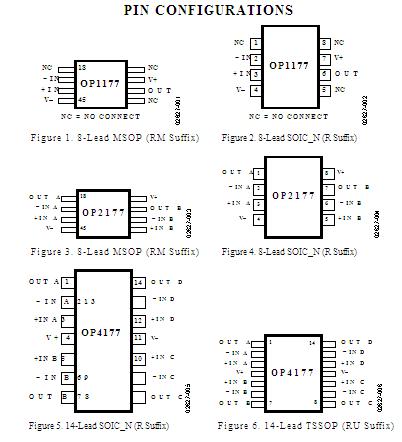 Image
Part No
Mfg
Description
Pricing
(USD)
Quantity

OP1177ARZ



IC OPAMP GP 1.3MHZ PREC LN 8SOIC

Data Sheet



| | |
| --- | --- |
| 0-1: | $1.42 |
| 1-10: | $1.29 |
| 10-100: | $1.03 |
| 100-250: | $0.92 |
| 250-500: | $0.80 |
| 500-1000: | $0.67 |
| 1000-2500: | $0.62 |
| 2500-5000: | $0.61 |


OP1177ARZ-REEL



IC OPAMP GP 1.3MHZ PREC LN 8SOIC

Data Sheet



OP1177ARZ-REEL7



IC OPAMP GP 1.3MHZ PREC LN 8SOIC

Data Sheet



| | |
| --- | --- |
| 0-1: | $1.46 |
| 1-10: | $1.32 |
| 10-25: | $1.18 |
| 25-100: | $1.06 |
| 100-250: | $0.95 |
| 250-500: | $0.83 |