Product Summary
The TD62064BP is a high-voltage, high-current darlington driver comprised of four NPN darlington pairs. All units feature integral clamp diodes for switching inductive loads. Applications of the D62064BP include relay, hammer, lamp and stepping motor drivers.
Parametrics
TD62064BP absolute maximum ratings: (1)Output Sustaining Voltage, VCE(SUS): -0.5 to 80 V; (2)Parasitic Transistor Output Voltage, VCEF: 80 V; (3)Output Current, IOUT: 1.5 A / ch; (4)Input Current, IIN: 50 mA; (5)Input Voltage, VIN: 7 V; (6)Clamp Diode Reverse Voltage, VR: 80 V; (7)Clamp Diode Forward Current, IF: 1.5 A; (8)Power Dissipation, PD: 0.9 W; (9)Operating Temperature, Topr: -40 to 85℃; (10)Storage Temperature, Tstg: -55 to 150℃.
Features
TD62064BP features: (1)Package Type: DIP16 pin; (2)High Output Sustaining Voltage: VCE(SUS) = 80 V (min); (3)Output Current (Single Output): IOUT = 1.5 A / ch (max); (4)Output Clamp Diodes; (5)Input Compatible with TTL and 5 V CMOS; (6)GND and SUB Terminal = Heat Sink.
Diagrams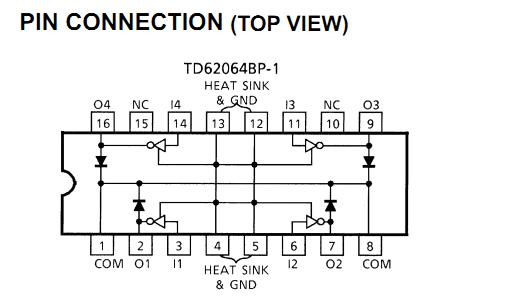 Image
Part No
Mfg
Description
Pricing
(USD)
Quantity

TD62064BP-1

Other



Data Sheet

Negotiable

TD62064BP-1(J)



IC DRIVER DARL SINK 4-CH 16-DIP

Data Sheet

Negotiable

TD62064BP1G(5,J)

Toshiba

Transistors Darlington 4CH. 80V/1.5A IFD IC

Data Sheet

Negotiable

TD62064BP1G(O,J)

Toshiba

Motor / Motion / Ignition Controllers & Drivers 4-Ch NPN Driver 1.5A 50V 5VCmos

Data Sheet



| | |
| --- | --- |
| 0-1: | $1.28 |
| 1-10: | $1.09 |
| 10-100: | $0.98 |
| 100-250: | $0.91 |


TD62064BP-1246KC11

Other



Data Sheet

Negotiable

TD62064BP1G

Other



Data Sheet

Negotiable

TD62064BPG-1(5,J)

Toshiba

IC DRIVER DARL SINK 4-CH 16-DIP

Data Sheet



| | |
| --- | --- |
| 1-25: | $0.60 |
| 25-100: | $0.48 |
| 100-250: | $0.36 |
| 250-500: | $0.34 |
| 500-1000: | $0.32 |
| 1000-2500: | $0.31 |
| 2500-5000: | $0.31 |
| 5000-10000: | $0.30 |