Product Summary
The MAX187CCPA is a 12-bit analog-to-digital converter (ADC). The device operates from a single +5V supply and accepts a 0V to 5V analog input. Both parts feature an 8.5μs successive-approximation ADC, a fast track/hold (1.5μs), an on-chip clock, and a high-speed 3-wire serial interface. The applications of the MAX187CCPA include Portable Data Logging, Remote Digital Signal Processing, Isolated Data Acquisition and High-Accuracy Process Control.
Parametrics
MAX187CCPA absolute maximum ratings: (1)VDD to GND: -0.3V to +6V; (2)AIN to GND: -0.3V to (VDD + 0.3V); (3)REF to GND: -0.3V to (VDD + 0.3V); (4)Digital Inputs to GND: -0.3V to (VDD + 0.3V); (5)Digital Outputs to GND: -0.3V to (VDD + 0.3V); (6)SHDN to GND: -0.3V to (VDD + 0.3V); (7)REF Load Current: 4.0mA Continuous; (8)REF Short-Circuit Duration: 20sec; (9)DOUT Current±20mA; (10)Continuous Power Dissipation: 500mW; (11)Operating Temperature Ranges: 0℃ to +70℃; (12)Storage Temperature Range: -60℃ to +150℃; (13)Lead Temperature (soldering, 10sec): +300℃.
Features
MAX187CCPA features: (1)12-Bit Resolution; (2)±1/2 LSB Integral Nonlinearity; (3)Internal Track/Hold, 75kHz Sampling Rate; (4)Single +5V Operation; (5)Low Power: 2μA Shutdown Current; 1.5mA Operating Current; (6)Internal 4.096V Buffered Reference; (7)3-Wire Serial Interface, Compatible with SPI, QSPI, and Microwire; (8)Small-Footprint 8-Pin DIP and 16-Pin SO.
Diagrams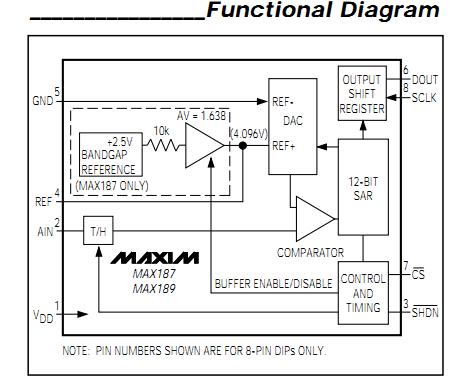 Image
Part No
Mfg
Description
Pricing
(USD)
Quantity

MAX187CCPA

Maxim Integrated Products

ADC (A/D Converters) Integrated Circuits (ICs)

Data Sheet

Negotiable

MAX187CCPA+

Maxim Integrated Products

ADC (A/D Converters) 12-Bit 75ksps 5.25V Precision ADC

Data Sheet



| | |
| --- | --- |
| 0-1: | $14.00 |
| 1-25: | $9.34 |
| 25-100: | $6.77 |
| 100-250: | $6.17 |