Product Summary
The AD623ARZ is an integrated single-supply instrumentation amplifier that delivers rail-to-rail output swing on a 3 V to 12 Vsupply. The AD623ARZ offers superior user flexibility by allowingsingle gain set resistor programming and by conforming to the8-lead industry standard pinout configuration. With no externalresistor, the AD623ARZis configured for unity gain (G=1), andwith an external resistor, the AD623ARZ can be programmed forgains up to 1000. Applications include Low power medical instrumentation, Transducer interfaces, Thermocouple amplifiers, Industrial process controls, Difference amplifiers and Low power data acquisition.
Parametrics
AD623ARZ absolute maximum ratings: (1)Supply Voltage: ±6 V; (2)Internal Power Dissipation: 650 mW; (3)Differential Input Voltage: ±6 V; (4)Output Short-Circuit Duration: Indefinite; (5)Storage Temperature Range: 65℃ to +125℃; (6)Operating Temperature Range: 40℃ to +85℃; (7)Lead Temperature (Soldering, 10 sec): 300℃.
Features
AD623ARZ features: (1)Easy to use; (2)Higher performance than discrete design; (3)Single-supply and dual-supply operation; (4)Rail-to-rail output swing; (5)Input voltage range extends 150 mV below ground (single supply) ; (6)Low power, 550 μA maximum supply current; (7)Gain set with one external resistor; (8)Gain range: 1 (no resistor) to 1000; (9)High accuracy dc performance.
Diagrams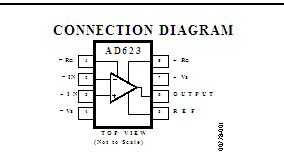 Image
Part No
Mfg
Description
Pricing
(USD)
Quantity

AD623ARZ



IC AMP INST R-R LP 8SOIC

Data Sheet



| | |
| --- | --- |
| 0-1: | $2.32 |
| 1-10: | $2.07 |
| 10-100: | $1.69 |
| 100-250: | $1.53 |
| 250-500: | $1.37 |
| 500-1000: | $1.16 |
| 1000-2500: | $1.10 |


AD623ARZ-R7



IC AMP INST R-R LP 8SOIC

Data Sheet



AD623ARZ-RL



IC AMP INST R-R LP 8SOIC

Data Sheet