Product Summary
The AT89S52-24PU is a low-power, high-performance CMOS 8-bit microcontroller with 8Kbytes of in-system programmable Flash memory. The device is manufactured using high-density nonvolatile memory technology and is compatible with the industry standard AT89S52-24PU instruction set and pinout. The on-chip Flash allows the programmemory to be reprogrammed in-system or by a conventional nonvolatile memory pro-grammer. By combining a versatile 8-bit CPU with in-system programmable Flash ona monolithic chip, the AT89S52-24PU is a powerful microcontroller which provides a highly-flexible and cost-effective solution to many embedded control applications.
Parametrics
AT89S52-24PU absolute maximum ratings: (1)Operating Temperature: -55 to +125℃; (2)Storage Temperature: -65 to +150℃; (3)Voltage on Any Pinwith Respect to Ground: -1.0V to +7.0V; (4)Maximum Operating Voltage: 6.6V; (5)DC Output Current: 15.0 mA.
Features
AT89S52-24PU features: (1)8K Bytes of In-System Programmable (ISP) Flash Memory; (2)4.0V to 5.5V Operating Range; (3)Fully Static Operation: 0 Hz to 33 MHz; (4)Three-level Program Memory Lock; (5)256 x 8-bit Internal RAM; (6)32 Programmable I/O Lines; (7)Three 16-bit Timer/Counters; (8)Eight Interrupt Sources; (9)Full Duplex UART Serial Channel; (10)Low-power Idle and Power-down Modes; (11)Interrupt Recovery from Power-down Mode; (12)Watchdog Timer-Dual Data Pointer; (13)Power-off Flag; (14)Flexible ISP Programming (Byte and Page Mode); (15)Green (Pb/Halide-free) Packaging Option; (16) Fast Programming Time.
Diagrams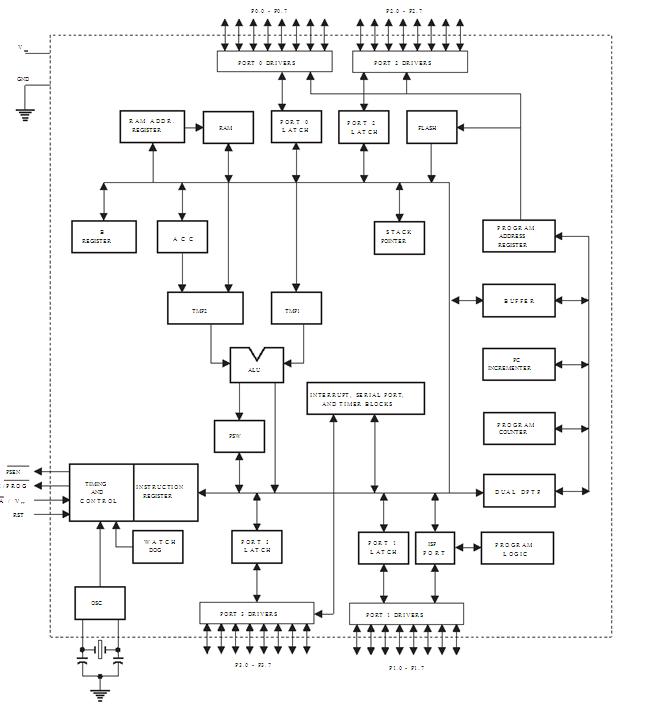 Image
Part No
Mfg
Description
Pricing
(USD)
Quantity

AT89S52-24PU

Atmel

8-bit Microcontrollers (MCU) 8kB Flash 256B RAM 33MHz 4.0V-5.5V

Data Sheet



| | |
| --- | --- |
| 0-1: | $1.24 |
| 1-10: | $1.21 |
| 10-25: | $1.16 |
| 25-100: | $1.10 |

Image
Part No
Mfg
Description
Pricing
(USD)
Quantity

AT8934

TE Connectivity

General Purpose / Industrial Relays SEALED R RELAY

Data Sheet



AT8985P

Other



Data Sheet

Negotiable

AT8989UP

Other



Data Sheet

Negotiable

AT8992-A2-T-1



IC SWITCH PHY 64-TQFP

Data Sheet

Negotiable

AT8992M-A2-T-1



IC SWITCH PHY 100-MQFP

Data Sheet

Negotiable

AT8993-A2-T-1



IC SWITCH PHY 100-MQFP

Data Sheet

Negotiable