Product Summary
The BLF177 is a Silicon N-channel enhancement mode vertical D-MOS transistor. It is encapsulated in a 4-lead, SOT121B flanged package, with a ceramic cap. All leads are isolated from the flange. Amarking code, showing gate-source voltage (VGS) information is provided for matched pair applications. Refer to the handbook 'General' section for further information. The BLF177 is designed for industrial and military applications in the HF/VHF frequency range.
Parametrics
BLF177 absolute maximum ratings: (1)drain-source voltage:125V; (2)gate-source voltage:±20V; (3)drain current (DC):16A; (4)total power dissipation Tmb ≤ 25℃:220W; (5)storage temperature:-65℃ to +150℃; (6)junction temperature:200℃.
Features
BLF177 features: (1)High power gain; (2)Low intermodulation distortion; (3)Easy power control; (4)Good thermal stability; (5)Withstands full load mismatch.
Diagrams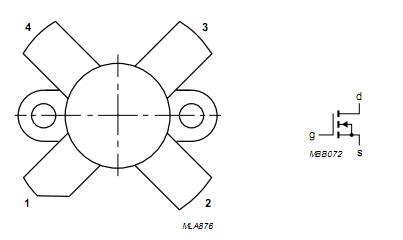 Image
Part No
Mfg
Description
Pricing
(USD)
Quantity

BLF177

Advanced Semiconductor, Inc.

Transistors RF MOSFET Power RF Transistor

Data Sheet



| | |
| --- | --- |
| 0-15: | $42.00 |
| 15-25: | $37.80 |
| 25-50: | $33.60 |
| 50-100: | $30.24 |


BLF177,112

NXP Semiconductors

Transistors RF MOSFET Power RF DMOS 150W HF-VHF

Data Sheet



| | |
| --- | --- |
| 0-1: | $39.63 |
| 1-25: | $36.98 |
| 25-100: | $34.33 |


BLF177C

NXP Semiconductors

Transistors RF MOSFET Power VDMOS TNS

Data Sheet

Negotiable

BLF177C,112

NXP Semiconductors

Transistors RF MOSFET Power VDMOS TNS

Data Sheet

Negotiable

BLF177CR

NXP Semiconductors

Transistors RF MOSFET Power VDMOS TNS

Data Sheet

Negotiable

BLF177CR,112

NXP Semiconductors

Transistors RF MOSFET Power VDMOS TNS

Data Sheet

Negotiable