Product Summary
The CPC1965G is an AC Solid State Switch using patented waveguide coupling with dual power SCR outputs to produce an alternative to optocoupler and Triac circuits. The CPC1965G switches are robust enough to provide a blocking voltage of up to 600V. In addition, tightly controlled zero cross circuitry ensures switching of AC loads without the generation of transients. The input and output circuits are optically coupled to provide 3750V of isolation and noise immunity between control and load circuits. As a result the CPC1965G is well suited for industrial environments where electromagnetic interference would disrupt the operation of electromechanical relays. The applications of the CPC1965G include Programmable Control, Process Control, Power Control Panels, Remote Switching, Gas Pump Electronics, Contractors, Large Relays, Solenoids, Motors and Heaters.
Parametrics
CPC1965G absolute maximum ratings: (1)Input Power Dissipation:150 mW; (2)Input Control Current: 100 mA; (3)Peak (10ms): 1 A; (4)Reverse Input Voltage: 5 V; (5)Total Package Dissipation, PD: 1600 mW; (6)Isolation Voltage, Input to Output: 3750VRMS; (7)Operational Temperature: -40 to +85℃; (8)Storage Temperature: -40 to +125℃; (9)Soldering Temperature (10 Seconds Max.): +260℃.
Features
CPC1965G features: (1)Load Current up to 1A; (2)Blocking Voltage to 600V; (3)5mA Sensitivity; (4)Zero-Crossing Detection; (5)DC Control, AC Output; (6)Optically Isolated ; (7)TTL and CMOS Compatible; (8)Low EMI and RFI Generation; (9)High Noise Immunity; (10)VDE compatible; (11)Machine Insertable, Wave Solderable.
Diagrams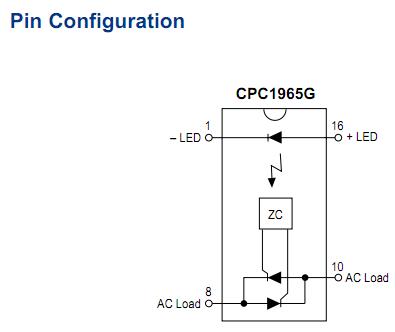 Image
Part No
Mfg
Description
Pricing
(USD)
Quantity

CPC1965G

Clare

Triac & SCR Output Optocouplers AC Switch

Data Sheet

Negotiable
Image
Part No
Mfg
Description
Pricing
(USD)
Quantity

CPC1001N

Clare

Solid State Relays Dual 1 Form-A relay 4-Pin SOP

Data Sheet

Negotiable

CPC1001NTR

Clare

Solid State Relays Dual 1-Form-A relay 4-Pin Surface Mount

Data Sheet

Negotiable

CPC1002N

Clare

Solid State Relays 1-Form-A solid state relay - 4-Pin

Data Sheet

Negotiable

CPC1002NTR

Clare

Solid State Relays 1-Form-A solid state relay - 4-Pin

Data Sheet

Negotiable

CPC1004N

Clare

Solid State Relays 1-Form-A solid state relay - 4-Pin

Data Sheet

Negotiable

CPC1004NTR

Clare

Solid State Relays 1-Form-A solid state relay - 4-Pin

Data Sheet

Negotiable