Product Summary
The HIP4081AIP is a high frequency, medium voltage Full Bridge N-Channel FET driver IC, available in 20 lead plastic SOIC and DIP packages. The HIP4081AIP can drive every possible switch combination except those which would cause a shoot-through condition. The HIP4081AIP can switch at frequencies up to 1MHz and is well suited to driving Voice Coil Motors, high-frequency Class D audio amplifiers, and power supplies.
Parametrics
HIP4081AIP absolute maximum ratings: (1)Supply Voltage, VDD and VCC: -0.3V to 16V; (2)Logic I/O Voltages: -0.3V to VDD +0.3V; (3)Voltage on AHS, BHS: -6.0V (Transient) to 80V; (4)Voltage on AHS, BHS: -6.0V (Transient) to 70V; (5)Voltage on ALS, BLS: -2.0V (Transient) to +2.0V (Transient); (6)Phase Slew Rate: 20V/ns.
Features
HIP4081AIP features: (1)Independently Drives 4 N-Channel FET in Half Bridge or Full Bridge Configurations; (2)Bootstrap Supply Max Voltage to 95VDC; (3)Drives 1000pF Load at 1MHz in Free Air at 50oC with Rise and Fall Times of Typically 10ns; (4)User-Programmable Dead Time; (5)On-Chip Charge-Pump and Bootstrap Upper Bias Supplies; (6)DIS (Disable) Overrides Input Control; (7)Input Logic Thresholds Compatible with 5V to 15V Logic Levels; (8)Very Low Power Consumption; (9)Undervoltage Protection.
Diagrams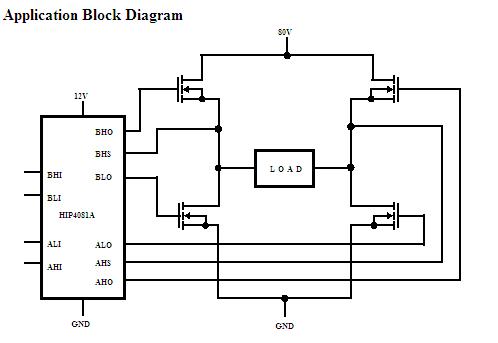 Image
Part No
Mfg
Description
Pricing
(USD)
Quantity

HIP4081AIP

Intersil

Power Driver ICs 80 VDC HI FREQ H-BRDG DRVR W/STA

Data Sheet



| | |
| --- | --- |
| 0-432: | $3.46 |
| 432-500: | $2.69 |


HIP4081AIPZ

Intersil

Power Driver ICs 80 VDC HI FREQ H-BRDG DRVR W/STA

Data Sheet



| | |
| --- | --- |
| 0-455: | $1.94 |
| 455-500: | $1.58 |