Product Summary
The NJM3771FM2 is a stepper motor driver, which circuit is especially developed for use in microstepping applications in conjunction with the matching dual DAC (Digital-to-Analog Converter). The NJM3771FM2 contains a clock oscillator, which is common for both driver channels; a set of comparators and flip-flops imple menting the switching control; and two H-bridges with internal recirculation diodes. Voltage supply requirements are +5 V for logic and +10 to +45 V for the motor. Maximum output current is 650 mA per channel.
Parametrics
NJM3771FM2 absolute maximum ratings: (1)Logic supply, VCC: 0 to 7 V; (2)Motor supply, VMM: 0 to 45 V; (3)Logic inputs, VI: -0.3 to 6 V; (4)Comparator inputs, VC: -0.3 to VCC V; (5)Reference inputs, VR: -0.3 to 7.5 V; (6)Motor output current, IM: -700 to +700 mA; (7)Logic inputs, II: -10mA; (8)Analog inputs, IA: -10mA; (9)Oscillator charging current, IRC: 5 mA; (10)Operating junction temperature, TJ: -40 to +150℃; (11)Storage temperature, TS: -55 to +150℃.
Features
NJM3771FM2 features: (1)Dual chopper driver; (2)650 mA output current per channel; (3)Selectable slow/fast current decay for improved highspeed microstepping; (4)Specially matched to Dual DAC NJU39610; (5)Packages DIP22 / EMP24(Batwing) / PLCC28.
Diagrams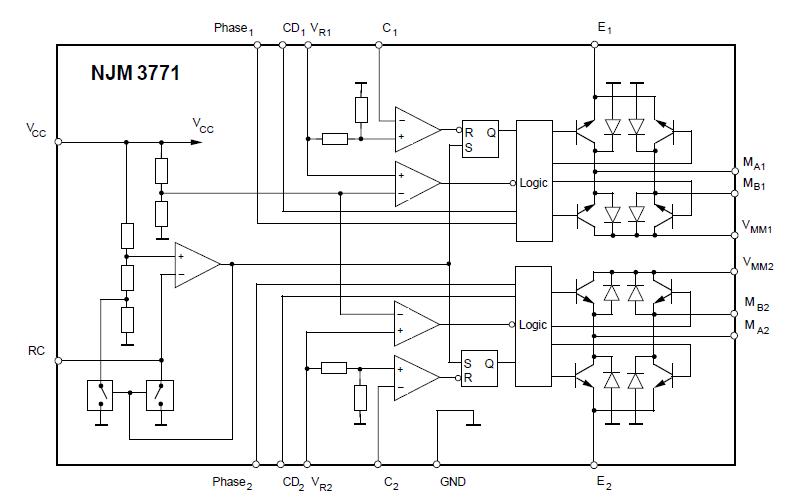 Image
Part No
Mfg
Description
Pricing
(USD)
Quantity

NJM3771FM2

NJR

Motor / Motion / Ignition Controllers & Drivers Dual Stepper

Data Sheet



| | |
| --- | --- |
| 0-1: | $3.24 |
| 1-25: | $2.76 |
| 25-100: | $2.36 |
| 100-500: | $2.22 |


NJM3771FM2-TE3

NJR

Motor / Motion / Ignition Controllers & Drivers Dual Stepper Motor Driver

Data Sheet



| | |
| --- | --- |
| 0-750: | $2.28 |
| 750-1500: | $2.14 |
| 1500-2250: | $1.99 |