Product Summary
The SCA100T-D02 is a 5V Inclinometer. The applications of it are 2-axis platform levelling, Inclination based position measurement, Tilt measurement with cross-axis compensation, 360 ° vertical orientation measurement.
Parametrics
SCA100T-D02 absolute maximum ratings: (1)Acceleration (powered or non-powered):20000g; (2)Supply voltage:-0.3V to +5.5V; (3)Voltage at input/output pins:-0.3V to (Vdd+0.3 V); (4)Temperature range:-55 to 125℃.
Features
SCA100T-D02 features: (1)2-axis inclination measurement (X and Y); (2)Available ranges ±0.5 g (±30 °), ±1.0 g (±90 °); (3)Over damped frequency response by Sensing Element(-3 dB @ 8, 28 Hz); (4)0.003 °resolution (10 Hz BW, analog output); (5)Advanced internal and external connection failure detection; (6)Digitally activated electrostatic sensing element self test; (7)Continuous memory parity check; (8)Single +5 V supply; ratiometric voltage output; (9)Serial Peripheral Interface (SPI) compatible; (10)Internal temperature sensor, accessible via SPI; (11)Lead-free reflow solderable lead-free component.
Diagrams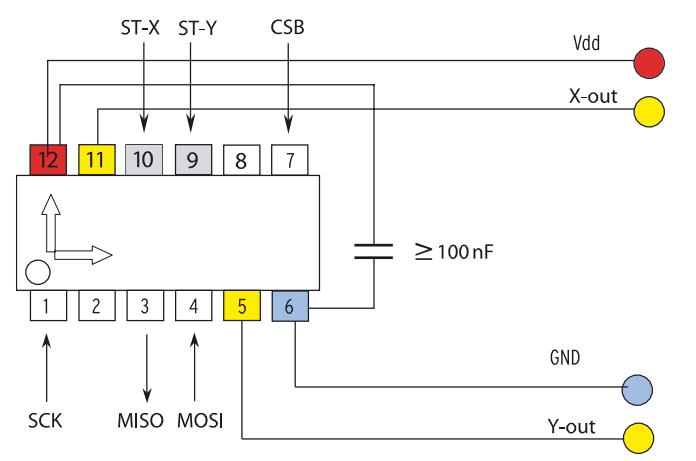 Image
Part No
Mfg
Description
Pricing
(USD)
Quantity

SCA100T-D02



INCLINOMETER DUAL 1G DIL12 SMD

Data Sheet



| | |
| --- | --- |
| 0-1: | $38.07 |
| 1-10: | $36.26 |
| 10-25: | $34.53 |
| 25-50: | $32.89 |


SCA100T-D02-1

Murata

Vibration & Tilt Sensors 2-Axis Inclinometer Analog

Data Sheet



| | |
| --- | --- |
| 0-1: | $43.31 |
| 1-10: | $34.64 |
| 10-25: | $31.49 |
| 25-100: | $28.63 |